Compressed Air Management System
**
CALMS EDGE IO SD
User manual
Online application: http://www.calms.com
Contact: info@calms.com

VER. : 2021.1.0.0
DATE: Febrauary 2021
Table of content
1Table of content2
2Introduction2
3Safety3
3.1Installation3
3.2Operation3
3.3Maintenance and repair4
4CALMS general conditions and policy of data protection4
4.1GENERAL CONDITIONAL AGREEMENT4
4.1.1CALMS website server owner (Provider)4
4.2Cookies7
5Specifications8
6Installation overview10
7Electrical connections10
7.1Terminals10
7.2Power supply12
7.3RS485 fieldbus connection12
Introduction
The CAL-EDGE-IO SD (further "CALMS device") (IO with digital and analog inputs, SD small compact device) is an advanced low-cost device used to monitor compressor performance. The CALMS device is a "kit" that consists of two main parts:
CAL-EDGE-IO SD device (4G modem with IO module)

Power supply
Kit also includes connection wires and mobile antenna.
Benefits:
Reducing costly downtime of your production

Improve the reliability of your equipment

Easy installation

Easy configuration on CALMS application

Extra digital and analog inputs

Connectable via RS485 (MODBUS RTU)
Safety

WARNING: Risk of Danger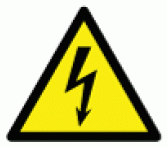 WARNING: Risk of Electric Shock

WARNING: Consult Manual
Before installing or operating the CALMS device, take time to carefully read all the instructions contained in this manual, all compressor manuals, and all manuals of any other peripheral devices that may be installed or connected to the unit.

Electricity and compressed air have the potential to cause severe personal injury or property damage.

The operator should use common sense and good working practices while operating and maintaining this system. All applicable codes should be strictly adhered to.

Maintenance must be performed by adequately qualified personnel that are equipped with the proper tools.
Installation
Installation work must only be carried out by a competent person under qualified supervision.

Always make sure compressor is de-energized when installing CALMS device into compressor.

A fused isolation switch must be fitted between the main compressor power supply and the CALMS device.
Operation
The CALMS device must only be operated by competent personnel under qualified supervision.

Never remove or tamper with safety devices, guards or insulation materials fitted to the CALMS device.

The CALMS device must only be operated at the supply voltage and frequency for which it is designed.

When main power is switched on, lethal voltages are present in the electrical circuits and extreme caution must be exercised whenever it is necessary to carry out any work on the unit.

Do not touch electrical components while voltage is applied unless it is necessary for measurements, tests or adjustments. Such work should be carried out only by a qualified electrician equipped with the correct tools and wearing appropriate protection against electrical hazards.
Maintenance and repair
If replacement parts are required use only genuine parts from the original equipment manufacturer, or an alternative approved source.

Carry out the following operations before opening or removing any access panels or carrying out any work on the CALMS device:

Isolate the CALMS device from the main electrical power supply.

Lock the isolator in the 'OFF' position and remove the fuses.

Attach a label to the isolator switch and to the unit stating 'WORK IN PROGRESS - DO NOT APPLY VOLTAGE'. Do not switch on electrical power or attempt to start the CALMS device if such a warning label is attached.

Make sure that all instructions concerning operation and maintenance are strictly followed and that the complete unit, with all accessories and safety devices, is kept in good working order.

The accuracy of sensor devices must be checked on a regular basis. They must be calibrated when acceptable tolerances are exceeded. Always ensure any pressure within the compressed air system is safely vented to atmosphere before attempting to remove or install a sensor device.

The CALMS device must only be cleaned with a damp cloth, using mild detergents if necessary. Avoid the use of any substances containing corrosive acids or alkalis.

Do not paint the CALMS device faceplate or obscure any indicators, controls, instructions or warnings.
CALMS general conditions and policy of data protection
GENERAL CONDITIONAL AGREEMENT
CALMS website server owner (Provider)
The CALMS website server owner and administrator (Provider) of www.calms.com and www.calms.eu is
HPE d.o.o., Dolenjska cesta 83, 1000 Ljubljana, Slovenia Europe E: info@calms.eu
and
CALMS Air Inc, 19 West 34th Street, NY10001 New York, USA, E: info@calms.com
General conditions agreement
By using the CALMS website, the user agrees to the CALMS general conditions agreement and Policy of Protecting of business data and accepts them.
Data accuracy
Provider strives to provide the most precise and current data on its website server, however, the website text is informative, therefore it is not liable for their accuracy. Data provided by CALMS devices and CALMS mobile devices depend on installation and setup from third party and are not responsibility of the provider, as well as reports, alarms generated by those data. Users interpret the contents on their own responsibility.
** Limitation of liability**
Neither Provider nor any other legal or natural person involved in the creation of this website server is responsible for any temporary disruption to this website, any possible information inaccuracies, or any damages that result in using inaccurate or incomplete information. Provider is not liable for any damage or inconveniences that result from the existence of this website server, from accessing to and/or using and/or inability to use information on this website and/or for any flaws or deficiencies in their contents, regardless of whether they have been notified on the possibility of such damages.
Since the Provider's website server receives data from external devices and features certain links to websites that are not in any way connected to the Provider and over which Provider has no control. Provider cannot guaranty for them nor receive or transmit complaints about the accuracy of the content on any of the data or websites that are linked or referenced and is not responsible for data protection on these websites.
Personal data protection
The administrator may use and process the user's personal data that are submitted when visiting the Provider website in accordance with the applicable regulations on personal data protection (Personal Data Protection Act ZVOP-1).
In accordance with ZVOP-1, the administrator may process personal data upon the user's personal consent. Personal consent is the individual's voluntary statement that their personal data may be processed for a certain purpose and is given based on information provided by the administrator. The individual's personal consent can be written, oral, a click on a dialog box allowing cookie use, subscription on CALMS application , or other applicable user consent forms.
For personal data protection purposes, the administrator will implement organizational, technical, and other appropriate procedures and measures to prevent unauthorized data deletion, change, loss, or unauthorized processing. As the web portal features certain links to other websites that are in no way connected to the provider, the administrator does not assume liability for data protection on these websites. The administrator is also not responsible for any mistakes that result in submitting false data upon registering at the portal website.
Cookies
The cookies we install on your browser enable us to run all the website functions, adapt certain contents to you, and improve our website with page analytics.
You can opt out of using the cookies. In that case, the website will not load any permanent cookies to your browser apart from our own cookies we use for the page analytics. By opting out, you may not be able to view the entire page properly.
The website uses the following elements of other providers that also use cookies:
Facebook button, Tweeter button, and Google button.
Changes to general conditions
The administrator reserves the right to change or add to the general conditions for the web portal at any time and without prior notice. The user will be notified on any changes to the general conditions with special pop-ups that will appear when accessing the website.
POLICY OF PROTECTION OF BUSINESS DATA
Provider (CALMS) provides internet based application located on cloud server as a service for Customer (Partner or End-user) for Compressed Air leak management and energy management
Provider and customer want to cooperate, that is why they want to establish confidentially relationship, and they conclude this policy with intention to prevent unauthorized disclosure of confidential information.
All information that customer will put on internet application will be shown only to customer users with password protection.
All data are located on secured web cloud database, with access for users that are confirmed by the customer .
Data related to CALMS can be deleted anytime by customer assigned user only without provider notice. When data are deleted they will be completely removed from server database and backup – so no restore possible.
This policy is covering relationship between Provider (CALMS) and his customer only and does not cover confidentially relationship between Partner and his End-user.
PRIVACY POLICY
This privacy policy manages the collection, storage and processing of personal data which Provider (CALMS) is collecting from you once you subscribe to contents, such as newsletter, invitations to events, publications, compressed air leak and compressed air energy data collected by CALMS products.
The personal data managers as defined by the General Data Protection Regulation (GDPR) of the European Union are:
HPE d.o.o., Dolenjska cesta 83, 1000 Ljubljana, Slovenia Europe E: info@calms.eu
and
CALMS Air Inc, 19 West 34th Street, NY10001 New York, USA, E: info@calms.com
PERSONAL INFORMATION AND THE PURPOSE OF PROCESSING PERSONAL INFORMATION
If you wish to receive contents from Provider (newsletter, invitations to events, publications and other Provider products), please fill out the registration form at the Provider website or purchase CALMS product. By filling out and confirming this the registration form, you will submit the following contact details to Provider:
Name and Surname
E-mail address
Company
Contact details submitted when filling out or submitting the form/order/application/registration are needed for processing your order and for communication regarding specific newsletter, events, publications and other Provider products to which you are subscribed. In case you do not provide the requested contact details, we will not be able to process your order and you will not be able to use the benefit of newsletter, events, publications and other Provider products.
Provider respects your privacy and is committed to being as diligent as possible regarding the collection, storage and processing of your personal data, and to always working in accordance with the current personal data protection regulation.
In order to prevent unauthorised access or disclosure of acquired data, to preserve the correctness of personal data and to assure that they are properly used, we are using suitable technical and organisational procedures for the protection of data we are collecting. Provider cannot exclude potential data abuse because internet is an unpredictable medium, despite all security measures and secure communication protocols.
 CONSENT
Personal data submitted when registering for the newsletter, events, publications and other Provider products are processed with your clear and unambiguous consent based on Article 6 (1), (a) General Data Protection Regulation (GDPR). We also process information about opened received messages and clicks on links in received messages in order to improve the quality of our products and services, and for statistical purposes regarding e-mails that we send you.
You can withdraw your consent at any time by clicking the "Unsubscribe" link which is located in the footer of each message received from Provider, or via e-mail at the following address: info@calms.com. In case your consent is withdrawn, we will no longer use your personal data for informing you about Provider contents (newsletter, events, publications and other Provider products). Potential withdrawal of the consent does not affect the legality of your personal data processing in the period before the withdrawal was submitted.
 YOUR RIGHTS
In accordance with the provisions of the General Data Protection Regulation of the European Union, you have the right to access your personal data, the right to modification, deletion, transferability, the right to request limitation of data processing and the right to object.
Please contact our authorised person for data protection regarding all your rights and for additional information, they are available at info@calms.com.  We will process your application and respond in accordance with the GDPR.
PERSONAL DATA RETENTION PERIOD
Provider keeps your personal data as long as it is necessary for the purpose of sending you the content (newsletter, invitations to events and other Provider products) to which you subscribed. In case you no longer wish to receive content from Provider and you decide to unsubscribe or in case you withdraw your consent for processing of personal data for this purpose, we will block your data in the system and will no longer use it for this purpose.
Cookies
WHAT ARE COOKIES?
A cookie is a file that stores website settings. Websites store cookies in devices used by users to access the internet with the purpose of identifying individual devices and settings users used during access. Cookies provide recognition if users already visited this website and advanced applications use them to adapt specific settings to users. Their storage is fully controlled with the browser of the user – they can limit or disable cookies.
WHY ARE COOKIES NECESSARY?
Cookies are essential for providing user-friendly web services; most common e-commerce functions would not be possible without cookies. The interaction between the user of the web and the website is faster and simpler with the use of cookies. The website uses cookies to remember individual preferences and experience, making browsing the websites more efficient and pleasant. There are several reasons to use cookies. They are used for storing data about the situation of an individual website (details on adaptations of individual websites), they facilitate website services (i.e. online stores), they help to collect statistics about users and website visits, about the habits of website users etc. Cookies facilitate the assessment of design efficiency of our website. You can also read the guidelines of the information commissioner on the use of cookies about the recommended and allowed use of cookies on website. They are available here
Cookies used on our website do not collect your personal data which could be used to personally identify you and they cannot harm your computer, tablet or mobile phone. Cookies facilitate the operation of our website and help us understand which information is most useful to visitors.
NOTIFICATION
By using this website, you agree that this website will add cookies to your computer or mobile device.
MANAGEMENT AND DELETION OF COOKIES
If you wish to modify how the cookies are used in the browser, including blocking or deletion, you can do this by suitably modifying browser settings. Most browsers have the option to accept or reject all cookies, you can accept only a certain type of cookies or receive a warning that a website wants to save a cookie. Cookies saved by your browser can also easily be deleted. If you change or delete a cookie file in your browser, if you modify or upgrade your browser or your device, you will also have to disable the cookies again. The procedure for the management and deletion of cookies is different in each browser. If you need assistance, you can check the help files of the browser
Specifications
Assembling
Kit is shipped in a box (dimensions: 150x150x150mm) which includes:
1 x CAL-EDGE-IO SD device

1 x Power supply 24VDC/60W

1 x Power supply wire and RS485 wire

1 x Mobile antenna
Carefully open the box and check if kit includes all above listed parts. In case any of items is missing contact you CALMS dealer.
Assembly instructions
RS485 connection between 4G modem and IO module:

Connect one end of the RS485 wire (bigger connector) to the IO module back side.

Other end of the RS485 wire connect to "CAN-BUS / RS485" connector of 4G modem.

Connection of the power supply wire:

Connect one end of the power supply wire to 3pin connector of the 4G modem and on nearest connector of IO module
-   Other end of the power supply wire connect to power supply
    module 24VDC/60W

Connect mobile antenna to ANT1 port of 4G modem.
SLIKA
General
CALMS device serial number
Each CALMS device is shipped with unique serial number. Serial number can be found on the silver sticker sticked on the CALMS device. Serial number is used to identify CALMS device inside CALMS web application.
SLIKA
Electrical connections
Terminals
In this section is discussed what are the terminals of the CALMS device.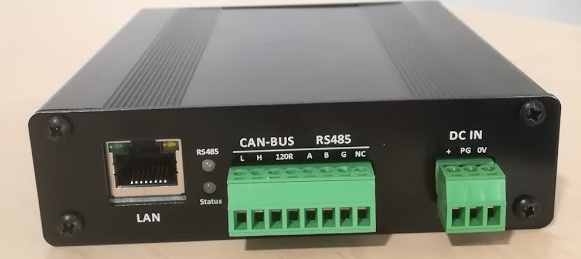 Figure 1: Modem front side terminals
LAN: LAN port is used to connect CS-lite device to any other TCP/IP protocol capable device (MODBUS, ADS, OPC UA,…). This port is also used to connect device on internet when communication through mobile network is not working.
NOTE: If we want to connect device to internet through LAN port, a DHCP server must be installed in the network;
RS485 pins: Used to connect RS485 capable device (MODBUS RTU protocol). These pins are also used to connect IO module;

LED-RS485: LED is blinking RED when communication is active. Led is driven by Tx/Rx;

LED-STATUS: LED becomes green when boots properly. When device gets connection to the internet via mobile network it starts blinking green;
NOTE: Device is in normal condition when STATUS LED is blinking green;
CAN-BUS pins: Not used;

DC IN: Power supply terminal. Device accepts voltage from 9-24VDC. Check electrical schematic for proper wiring.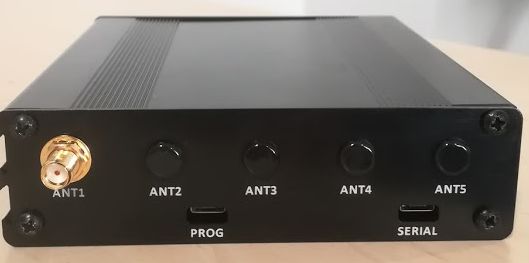 Figure 2:Modem rear side terminals
ANT1: Used for antenna connection with SMA connector.
NOTE: Mount antenna on the place with best signal reception possible;
PROG: Port used for programming unit (technical access only);

SERIAL: Not used;

ANT2, ANT3, ANT4 and ANT5: Not used.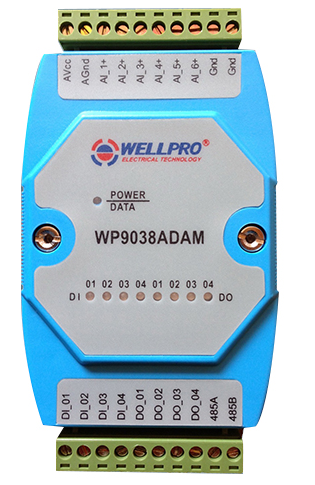 Figure 3: IO MODULE terminals
AVcc and AGnd: Terminals to connect external power supply. It accepts 9-30VDC and consumes app. 2W;

AI_1+ to AI_6+: Six 4-20mA analog inputs. Accuracy ±0,02mA;

2xGnd: Common terminal for analog inputs;

DI_01 to DI_04: Four low level digital inputs. For proper wiring check the electrical schematic;

DO_01 to DO_04: Not used;

485A and 485B: Terminals for RS485 communication to the MODBUS RTU master;

Power/Data LED: LED is blinking green when device operates properly. If any other device is connected on same MODBUS chain, this LED can blink RED. That also means normal operation.

DI LEDs: Module offers status LEDs for digital inputs. When certain DI is activated corresponding LED turns red.
Power supply
To supply CALMS device a 60W 24VDC power supply is used. Connection wires are already included in the kit. Connect wires to labeled terminals of the 4G modem (3pin screw type connector) and on IO-MODULE (terminals AVcc and AGnd). Check the electrical schematic for proper wiring.
RS485 fieldbus connection
To connect any RS485 (MODBUS RTU) capable device use 8pin screw type connector on 4G modem. For proper wiring check the electrical schematic.
4G modem and IO-MODULE are communicating via RS485 with MODBUS RTU protocol. To connect any other RS485 device to the same network make sure next communication parameters are used:
Slave address: Use any address from 2-253 (address 1 is taken by IO module);

Baudrate: 9600;

Data bit: 8;

Stop bit: 1;

Parity: None.
Ethernet fieldbus connection
CALMS device has one standard RJ45 port used to implement TCP/IP connection. Supported protocol so far are: MODBUS TCP/IP, ADS, OPC UA. CALMS device obtained fixed IP (192.168.0.102) in case there are not any DHCP servers in the network. If DHCP server is present in the network CALMS device will obtain IP from DHCP server.
This port can also be used to connect device to the internet in case of 4G modem failure or low signal strength.
Configuration
CALMS device is fully configurable through CALMS web application. To configure it via CALMS application next conditions must be met:
User must be registered to CALMS application. In case user has no registered account contact CALMS dealer;

User must be added to device user's list in order to configure it. In case user cannot see device under his Device tab in CALMS application contact CALMS dealer;
User can change device configuration under device configuration page.
To view latest tutorials please check tutorials on CALMS web application.
How to start - Installation and configuration procedure
Install CALMS device inside the compressor starter cabinet using a DIN rail bracket;

Connect power supply to main compressor power supply. We recommend to install a circuit breaker between main compressor power supply and CALMS device power supply;

Mount antenna outside compressor starter cabinet to assure best mobile signal reception;

Check the STATUS led on the 4G modem. When device connects to the network it starts blinking GREEN (it may take 5-10 minutes to connect)