The navigation interface and toolbars have two menu bars vertical and horizontal and always present "Do you need help? " chat box button.
The horizontal menu bar
Left side menus - same menu as on vertical bar with system name
Right side menus - important menus

Show documentation help based on the current page
Calculators
Notifications
User settings with login user name

The vertical menu bar
Main view selection:

System - single system selection
Multi-system - overview of all your active systems for comparing, benchmarking, all system waste management, all system device management, alerts and reports
Manager view - create and edit all your systems, users, companies, billing information
My account - user settings, language, displayed units, passwords and notification settings

Sub selection menu - will change based on selected main menu
About - general information menu with link to

Help - this documentation
Certifications - different online exams for CALMS certifications, CA level 1 certificate, CA responsible certificate
Report a problem - link to email for problems
Policy of protection - link to the documentation
Terms of use - link to the documentation

Navigation menu map: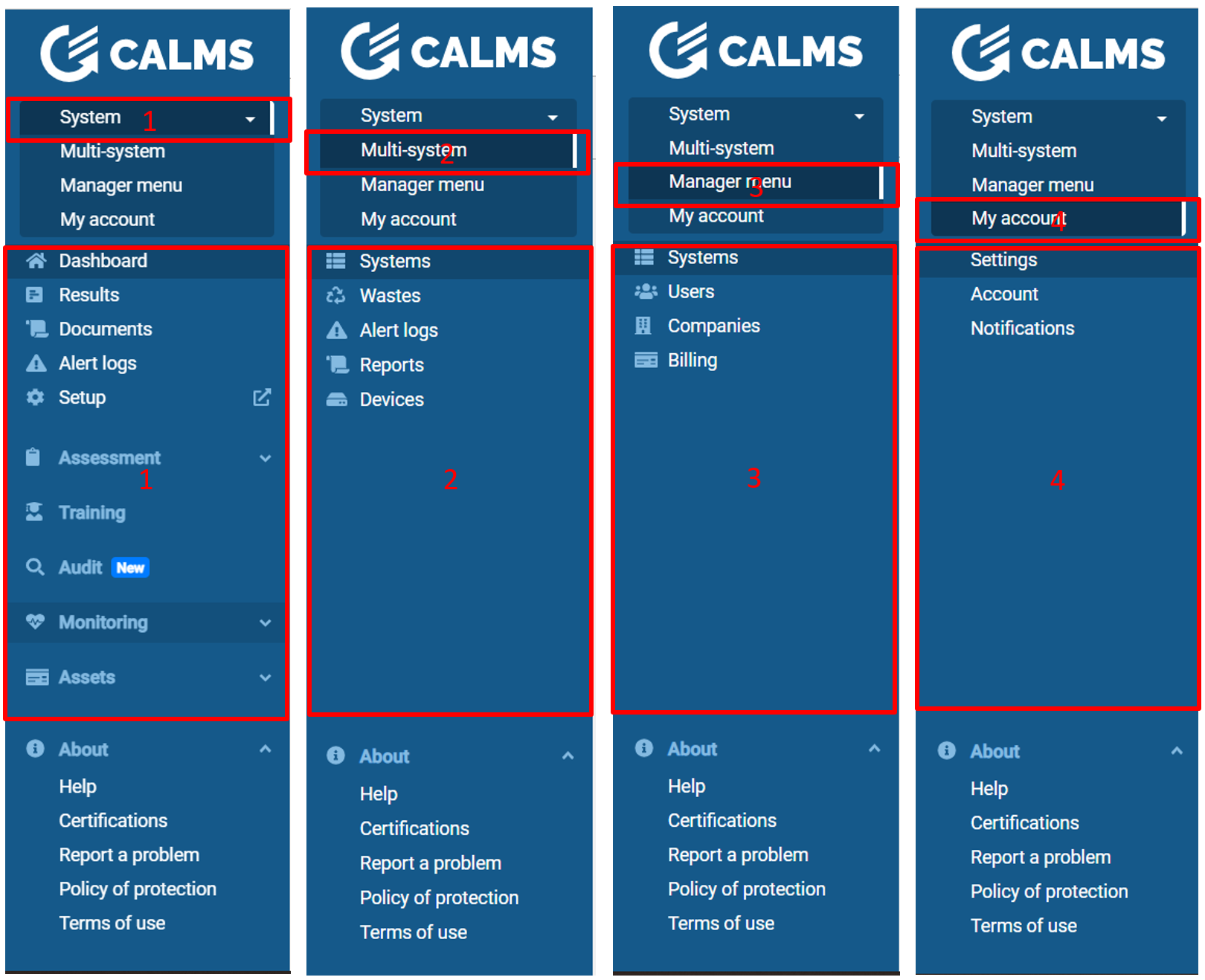 Chat support box
Support button "Do you need help?" is present on each site , in bottom right corner.

This support button is used as CALMS common communication tool, designed to make user experience even better! This integration unifies the channel for problem-solving, providing faster and more accurate answers with the help of artificial intelligence. On the right-hand side of every page in the app, you can find an icon labeled "Do you need help?" which will open a dialogue box to communicate with AI, bots, or human support.
You can also switch between AI and human support with the simple command of "AI Support" or "Human Support".
If you have a query related to a specific system, please provide the link to the page to make the process smoother. This new communication tool offers many advantages over emails, texts, or calls, including traceability and redirection to the first available support, insights into application problems, and continuous improvements. AI also has the potential to reduce the burden on human resources by learning to recognize patterns and suggest solutions in corresponding systems. We hope you take advantage of all the features included with the CALMS user communication tool. Please don't hesitate to reach out with any questions or concerns. We are here to ensure that you have the best experience possible with the application.
AI microservice has a connection to external servers with the most advanced Ai algorithms to help you answer any particular question related to compressed air or CALMS. We are training and fine-tuning the model to get as accurate as possible but also installed filters so that it should not reply any other topics and also we limited the size and duration of conversation due to very high cost of AI services.