CALMS is designed for compressed air experts for audits and surveys with detail analysis and actual savings actions identifications.
For your first audit follow First audit checklist and step by step guide.
CALMS will support
Supply Audit

This consist of just the compressor room/s.

Demand Audit

This consist of just the production parts of the plant, problem areas

Supply & Demand Audit

This consist of both the supply and demand parts of the plant.

Waste Detection Audit (Leaks, Inappropriate used and Artificial demand)

This consist of ultrasonic leak detection to find leaks in a plant.

Full Audit

This consist of all of the above. Very Thorough look at your plant

and compressed air system.
Connecting measurements from instrumentation sensors, equipment or PLC control systems with CALMS edge devices:
getting-started-with-cal-edge-0-device.pdf
getting-started-with-cal-edge-8-device.pdf
Auditor hand tools
personal safety gears (helmet, googles, ear muffs, shoes, gloves, ..)

personal hand tools

smart phone with assessment app and photo

portable remote logger with amps clamp, pressure, PDP

multi-meter and current clamp meter

pipe diameter measuring tape

laser distance measurement device

portable temperature meter or thermal cameras

portable pressure transmitter

ultrasonic thickness gauge

portable ultrasound leak detector
Remote Audit workflow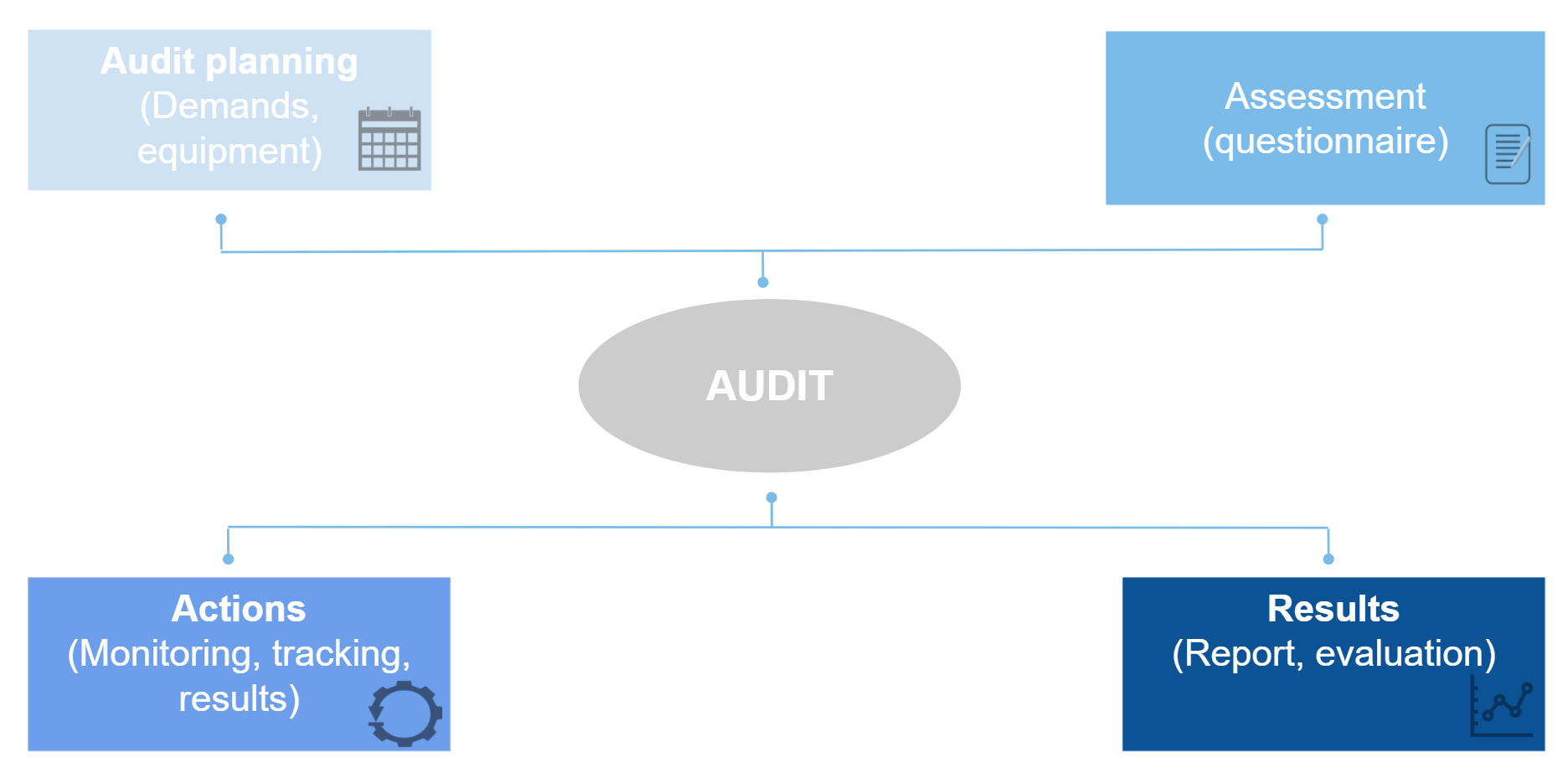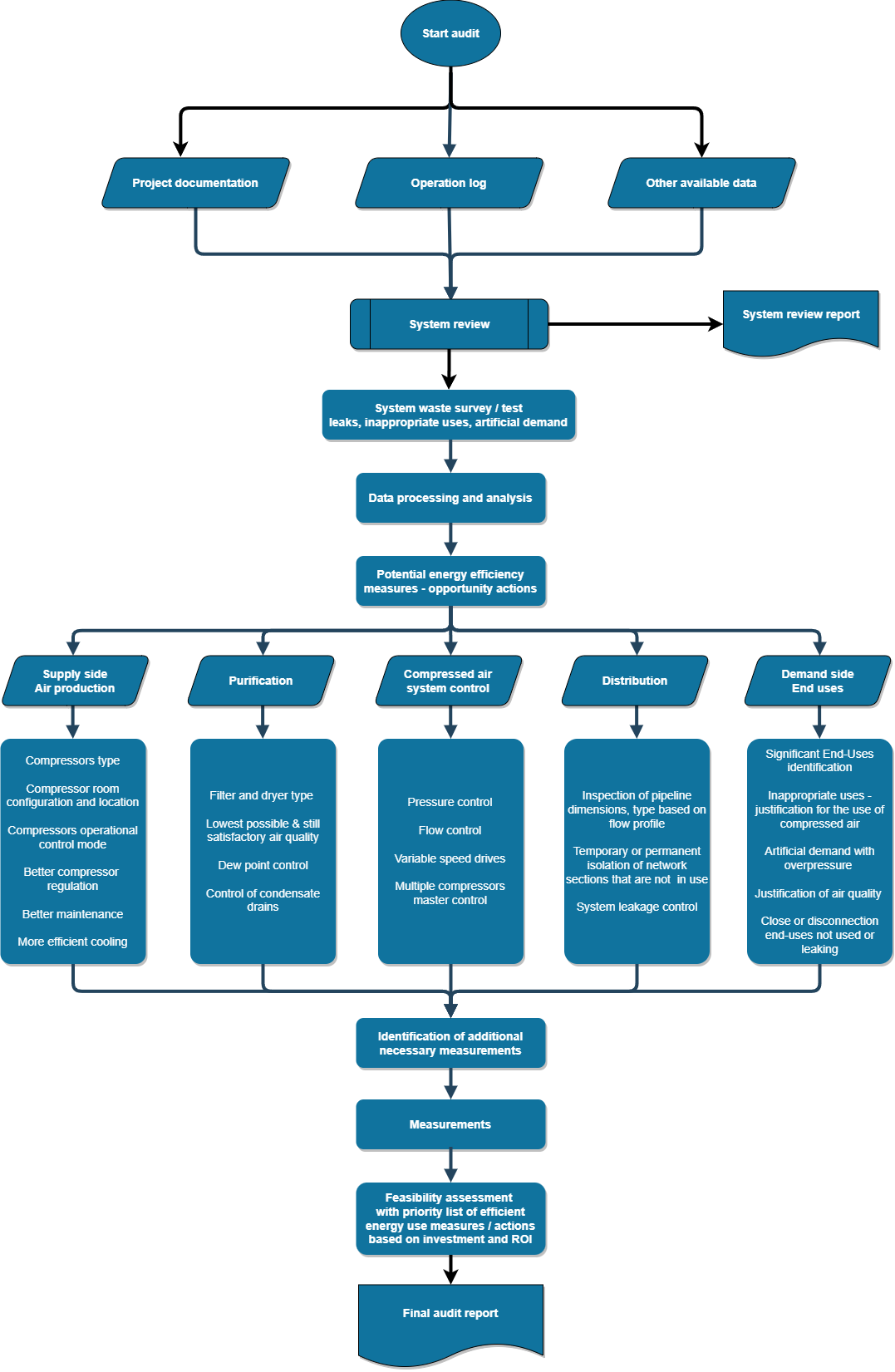 Basic audit - supply side guidelines
Audit planning : CA system details description with PID Schematic: https://app.calms.com/pid/
Assessment details: customer name, contact person, address, PO, system description, problems
CALMS Audit basic kit - explorer case prepare and ship with sensors and cables
Customer installs Audit logger and sensors
CT Amps for each compressor
Pressure Wet and Dry receiver=System pressure
Remote CALMS device Setup with app.calms.com/device & System Setup app.calms.com/setup
Remote Audit tests - start scope live monitoring test app.calms.com/monitoring/inspect
each compressor start/stop, load/unload
variable speed SP change from min to max power output
control system testing (with/without), settings, change SP
Select typical week as slice for analysis and start Audit under Assessment
Create Report under Audit
Open .pdf report in MS Word to edit and add your comments and pictures from CALMS
Select independent expert to perform detail audit and analysis
Full audit - complete system assessment
A full assessment of your compressed air system include the complete system –
Supply Side equipment (including - installation, control, maintenance, ventilation)
Distribution Side pipelines, rings, leaks
Demand Side users (pressure, use type, special requirements, leaks, AD, IU)
Standard audit measurements
Each air compressor

Power / Current – pressure – evaluation of controls and integration with other compressors – comparison of operating condition with equipment design – efficiency during all shifts.

Each air dryer, refrigerated , desiccant

Power and/or purge flow should be measured.

Filter - Dryer - Supply side pressure drop.

Did this facility outgrow its infrastructure?

System demand side - Flow - Pressure

Piping problem by raising the pressure? More pressure requires more energy.
POU pressure drop and leaks
Any hidden filtration in the ceiling throughout the facility?
Is a Leak Study and Inappropriate Use hunt part of this project?

Select an independent auditor that has experience with your type of equipment

Select audit type
Collect data with remote logger to CALMS platform

Numbers – Charts – Interpretations - Recommendations

Real Action suggestion
KPIs
Production data.

Can you assign costs to a product line?
Power costs – Water costs – Heating fuel costs

Understand the problems within your existing system.

Review maintenance records and costs. Are there maintenance recommendations that have not been acted upon.
Compressor performance service audit
Overview
Calms compressor performance service is based on CALMS analysis and should be performed at least once per year as part of a regular yearly maintenance plan. Service is used to validate CALMS auto analysers in permanent monitoring systems.
Compressor performance service document link
CALMS compressor performance analysis goals:
Independent compressor performance verification
Manual CALMS auto analyser verification
Check performance before and after investment in new equipment
Compare history data and characteristic deterioration
Service troubleshooting
Compressor performance is measured based on below tolerances :
Flow : +- 4%
Pressure: +-1%
Specific Energy consumption: +-5%
No load/ Zero flow power: +-10%
Based on ISO1217 annex C for 15m3/min (500cfm) or more.
Procedure
CALMS compressor performance test must be carried out with compressor operator or service person and expert working live on CALMS Inspect page with scope mode turned ON. The measurement sampling rate is 1 sec. Before starting check and confirm that all measurement equipment was tested and calibrated. The compressor operator must be online connected to CALMS tester (WhatsApp..) . Test duration max 2h.
Instrumentation:
Power meter/analyser
Pressure sensor
Flow sensor
CALMS edge gateway
CALMS will use auto analyser tools to collect and calculate all necessary parameters based on measurements. Final compressor performance report will be generated.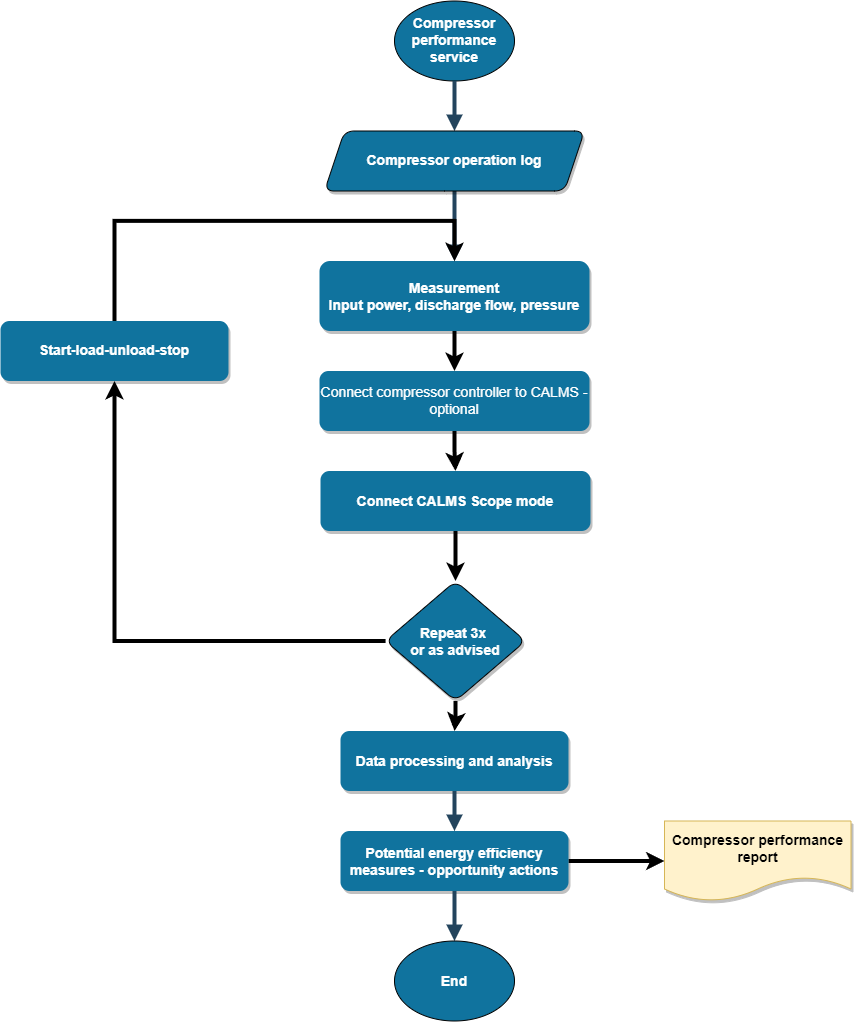 Wireless w-mesh modbus sensor connection audit